Student Tips for Abroad (by a summer student):
As soon as you get here, go to Carphone Warehouse near the GEO in London Centre to buy an international SIM card with data for as little as £10. Worth the money for data.
Packing:
You'll need a rain coat, but not rain boots
Comfortable shoes will be your best friend
Layarable clothes are also great—especially when the heat wave comes
Shower shoes/flip flops
Bring small toiletries with you and buy more when you're here
A book for the plane or nights you want to relax is quite handy
Small notebook to journal in
Ziploc gallon sized plastic baggie for paper souvenirs
Outings:
Abbey Road: Easy if you take the Russell Square Piccadilly Line to Green Park, get off for the Jubilee Line and take that to St. John's Wood. It's on a 5-minute walk after that and well worth it.
If you attend a service (like Evensong @5pm) at Westminster Abbey, you won't have to pay £20 to get in.
If you're going to Bath, Brighton, Edinburgh, etc. consider buying a student rail card to save £/$.
Top 3 Places to Eat:
 Lunch at Caffé Capital: 60 Theobalds Rd, London WC1X 8SF

This is literally right around the corner from the GEO Centre and it's delicious deli food and cheap (£1.50 baked potatoes)

Tea Time at the Argyll Arms: 18 Argyll Street, London W1F 7TP

This is afternoon tea at a pub so it's eclectic, involves alcohol if desired, and is in the really interesting Soho area.

Dinner at L'osteria: 57 Gray's Inn Rd, London WC1X 8PP

This is about a 5-minute walk away from the GEO Centre and is the hidden gem of Italian restaurants. Very cozy, delicious and inexpensive food, and the tiramisu is to die for.
Top 3 (Close) Places to Drink:
 London Pub: Woburn Place, London, WC1H 0JZ

Close to the dorm, cheap drinks, and a younger crowd

Be At One: 33 Caledonian Rd, Kings Cross

Also close, drinks are about £8.50 each but if you bring your student ID you get 2 for the price of 1. Awesome live music.

The Perseverance: 63 Lamb's Conduit St, London WC1N 3NB

Great if you're looking for a local pub, close to the GEO Centre, and delicious drinks (get Pimm's).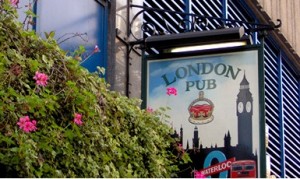 Useful Links/Apps:
 Seems obvious, but Google Maps is a great way to get around the city if you have data or Wi-Fi.
Citymapper App and https://citymapper.com/london are invaluable.
Uber is another handy app when you don't want to pay an arm and a leg for a taxi.
National Rail is perfect for scheduling that trip out of town.
The Student Railcard is so useful if you're planning any trips: http://www.16-25railcard.co.uk/
Top 5 Free Things to Do:
 Listen to a street performer—they're brilliant, everywhere, and free entertainment.
The Changing of the Guard ceremony at Buckingham Palace takes place every day at 11am and is great for all its pomp and circumstance.
Borough Market is a 5 min walk from Tate Modern and the London Bridge and has delicious, artisan foods and handcrafted goods. If you go, get the best brownie of your life at Flour Station Stall.
Camden Market is crazy, touristy, and extremely interesting. Lots of eclectic stalls and unique items. Make sure to watch your purse and bargain the prices as well.
There is nothing like a day in Hyde Park.